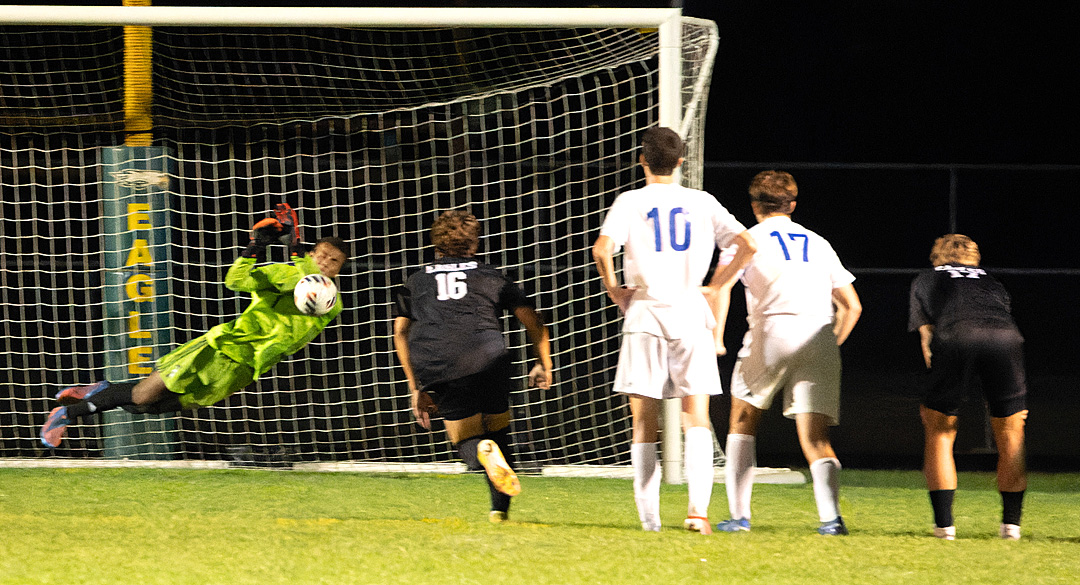 Bulldog Sports Roundup | September 15, 2022 • Yellow Springs News
CROSS COUNTRY
The boys' and girls' cross country teams from McKinney Middle School and YS High School had a moment of glory at the 58th Annual Brookville Cross Country Invitational last Saturday, Sept. 10, as more than half of the Bulldogs took achieved personal bests in this great meeting of more than 25 teams.
Cheyan Sundell-Turner improved her performance from last year by one place, which placed her first among 157 runners as she navigated the 5,000-meter course with a season-best time of 20:41, winning the gold medal. She was ably complimented by ninth grader Sasi Drees-Johnson (42nd), fellow senior Josie DeWine (44th), sophomore Lidija Lackovich-VanGorp (93rd) and ninth grader Rebecca DeWine (95th) as they finished in seventh place out of 27 schools.
The high school boys raced to a 15th place finish out of 31 schools and 209 competitors. Junior Jack Horvath clocked a personal best 20:26 while finishing 62nd. Ninth-grade Kyle Johnston also clocked a personal best 20:57 (86th). The rest of the Bulldogs — Kyle Raymer, Evan Galarza, Arthur DeVore, Zach Richardson, Collin Calfee and Charles Whitlock — all ran competitive races.
McKinney's women's team finished in ninth place out of 22 teams and 165 runners. Seventh graders Sierra Sundell-Turner (39th, 15:37) and Violet Matteson (49th, 15:54) rode great races and were strongly supported by Abedu Barnett, Elise Bongorno and Bella Thomas.
McKinney's men's team ended up in 14th place out of 25 schools, with a field wide of 250 runners. Eighth-placed Wills Oberg paced the Bulldogs with a time of 13:36 (69th) and teammate Matteo Chaiten clocked a good time of 14:26 (108th). Fellow Bulldogs Alex Main, Cooper Folck, Maddox Buster, Oshri Paschal, Charlie Carr, Graham Turnmire and Jaden Douglass achieved personal bests.
Coaches Isabelle Dierauer, Peter Dierauer and John Gudgel praised the total team effort and competitive spirit that was displayed by all riders in this highly competitive meet.
—Coach John Gudgel
VOLLEYBALL
The volleyball team had two wins and one loss last week, falling to Carlisle on Wednesday September 7 and beating Middletown Christian and Northeastern on Thursday September 8 and Saturday September 10, respectively. All three were away games.
The game against Carlisle was close, with the Bulldogs winning the first set and trailing narrowly for the last three. Junior Ella Laws was the leader for eliminations during the match, racking up nine, followed by eight from sophomore Lacy Longshaw, six from senior Josephine Zinger, four from second Adeline Zinger and three from senior Vivian Brya. Adeline Zinger led the game in digs, scoring 20, with Babb contributing 16, 13 for Longshaw and Bryan, nine for Laws and eight for Josephine Zinger.
The team fared better against Middletown Christian, beating them 3-1. Longshaw led the field with 24 kills, which were complemented by seven from Adeline Zinger, two from Bryan and Josephine Zinger and one from Laws and rookie Malayna Buster.
Adeline Zinger was the heavy hitter for the digs, racking up 33, followed by 15 from Bryan, 14 from junior Violet Babb, 10 from Josephine Zinger, nine from Longshaw, three from Laws and one from Buster.
The Bulldogs continued to keep the opposing team scoreless in their next game against Northeastern, winning 3-0. Adeline Zinger had 11 kills, including eight from Longshaw, three from Bryan and two from Buster and Josephine Zinger. Babb led for the digs with 17, followed closely by 15 from Adeline Zinger, 11 from Longshaw, eight for Josephine Zinger, seven for Bryan and one each for Bayard and Laws.
The team's current record is four losses and four wins. Their next matches will be against Emmanuel Christian on Thursday September 15 at home; and Dominion Academy on Saturday, September 17, outdoors. Both games start at 7 p.m.
BOYS SOCCER
The boys' soccer team picked up their fourth win on Tuesday, September 6, beating Troy Christian 2-1 in an away match.
Seniors Eli Eyrich and Dylon Mapes scored a goal each to keep the Bulldogs in a narrow one-goal lead over the opposing team. With just three minutes remaining in the tough game, Krishan Miller jumped in to save a penalty from Troy, shutting down the opposition; the senior keeper made seven saves during the game. As time ticked down, the Bulldogs emerged triumphant, remaining undefeated.
As district parent and football fan TJ Turner, who filmed Miller's incredible save on camera, wrote, "The Bulldogs didn't play [Troy Christian] for several years, but both teams are ranked in the local top 5, a good sign for the rest of the season!
The statistics for the September 10 match against Chaminade-Julienne have not yet been released.
The Bulldogs will face Legacy Christian Academy at home on Thursday, September 15 and Catholic Central at home on Saturday, September 17; both games start at 7 p.m.