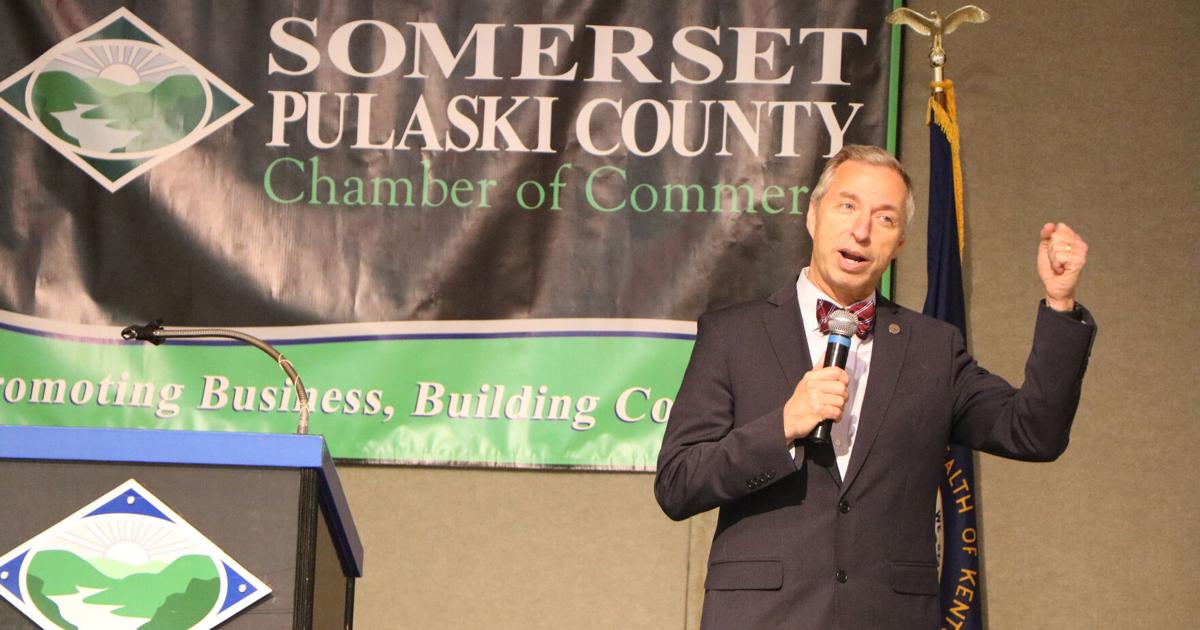 CU President Hopkins shares his love for a new job with the House crowd | News
A number of things immediately stand out about Dr. Joseph Hopkins, the new president of Campbellsville University.
One is his personality – warm, bright, contagious. A natural speaker. One is his impressive background, not only as an educator but also as an opera singer.
But above all, we notice how quickly he fell in love with CU.
"That's why I fell so in love with Campbellsville University, it's because of its mission," said Hopkins, the guest speaker at the Somerset-Pulaski County Chamber of Commerce's April luncheon. . "But it's also a place of innovation.
Part of that innovation is how a relatively small Christian school in rural Kentucky has branches that now stretch as far away as Canada or California—and also here locally, with the University of Campbellsville-Somerset and the Noe Education Center.
Like the school he now runs, Hopkins' own roots also grew both far and near home. Appointed president of UC in February, Hopkins has served as dean of Samford University School of the Arts in Alabama, dean of the Petrie School of Music at Converse College in South Carolina, and chair of the music department at the University of Evansville, Indiana. He founded the Harlaxton International Chamber Music Festival and served on the faculty of the Operafestival di Roma in Rome, Italy.
Hopkins is a graduate of Shorter College, Baylor University and Indiana University, and earned a degree from Harvard University's Institute for Management and Leadership in Education. He was appointed a senior Fulbright scholar in Indonesia… and also earned the prestigious local title of Kentucky Colonel.
And yet, it's at the University of Campbellsville that he finds himself talking to his friends from other places, sparking their curiosity about what this school has to offer.
"This place is a challenge for me, that I walked into a place that takes its mission seriously," he said. "I walked into a place that wants to walk in a straight and upright way. … I can't claim any credit for that. It's (because of) the people who came before.
A strong individual in his faith himself, Hopkins shared his personal testimony with the crowd and spoke of being impressed by the inclination of those at CU to pray – noting both someone at school who has prayed with him shortly after meeting him, and CU students who first thought of praying while helping at the scene of a recent car accident.
He called CU a place of "abundant hospitality" and said he was very impressed with how the school made it a priority.
"There are many Christian higher education institutions in our country," he said. "A lot of them, their primary ambition is to be the no. 1 ranked Christian university in the country. And while that's important to Cambellsville, it's not our singular ambition. Many of them ( aim) to be the most Christian among these universities. And while that's important to us, it's not our only ambition. You see, we belong to that group that believes that one helps the other, and for us to seek the best in faith and to seek the best in scholars, may these two things lean against each other and make us stronger.
Hopkins was impressed by the diversity of CU, inviting people of all faiths and denominations from around the world – nearly 30% of the school's students are international; "I walk into the cafeteria and by the time I walk out I hear over a dozen languages," he said – and their rapid growth. He observed that a colleague who came to CU in the 1990s remarked that when he arrived the college had 300 students; in 2015, CU had 3,400 students. Two years ago, the university exceeded the threshold of 12,000 students. Hopkins also noted that about 40% of the school's enrollment are first-generation students.
"The courage, innovation and vision of those who came before me helped us to impact life after life," he said. "It's not just numbers. These are lives. They are families. These are communities that are forever changing with quality education and quality opportunity.
Campbellsville University arrived in Somerset in 2013, but its program offering really took off with the addition of the Noe Education Center a few years later. Hopkins said he asked Noe Center executive director Angie Travis to tell him about some of the place's successes, and she had a lot to say.
After a while, "She kind of gave up and said, 'Joe, it's here every day. It's every day that we hear the story of one of our students whose changed or changed another life because this educational opportunity was given to them," Hopkins said. "That's why I wanted to be a part of Campbellsville University."
Hopkins also shared a brief glimpse of his operatic skills, coining the name 'Figaro' after recounting how he got into singing after discovering he had the voice for it, but eventually realized. that his heart was in education. After Tuesday's bedtime lunch, it's clear his heart has an even more specific home than that — it's with Campbellsville University.
"The Campbellsville University mission is an incredible and unique mission that I have not only fallen in love with, but its mission to the point that I will never get over it," he said. "I'm already in this place after only two months."