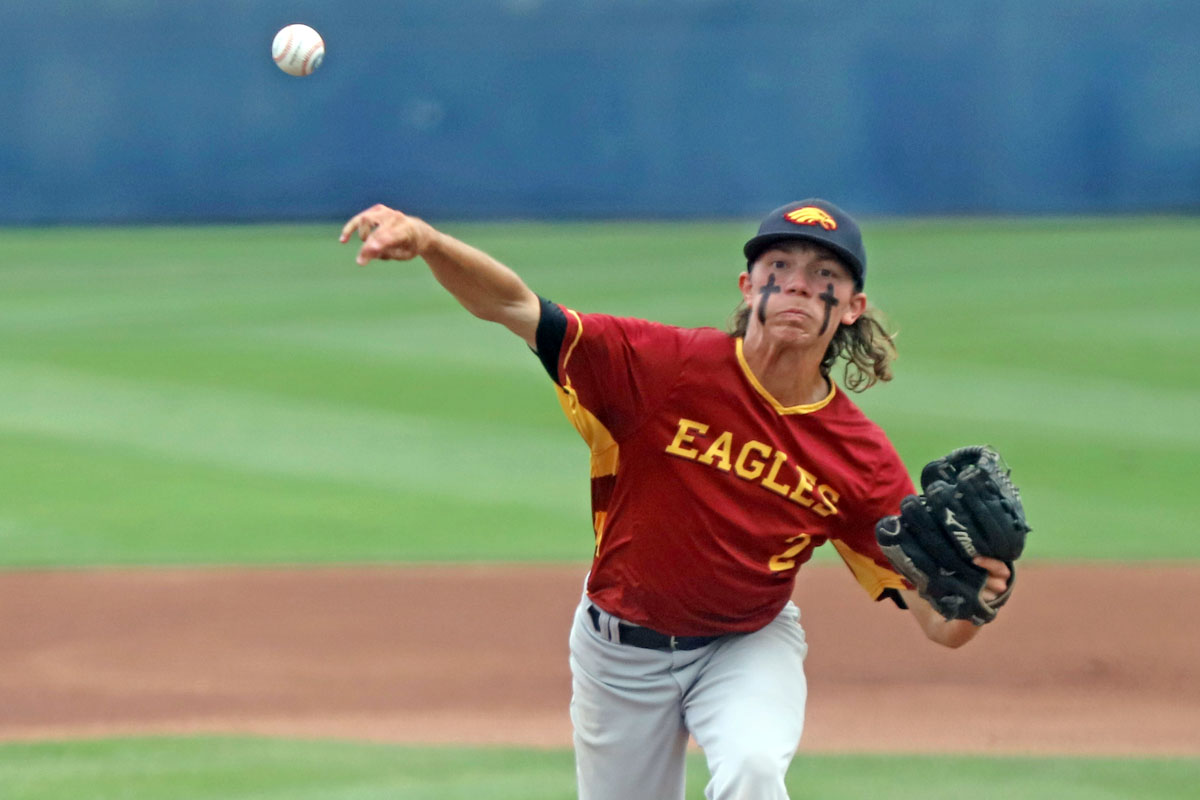 Estancia pitcher and coach earn All-CIF Division 6 baseball team honors
Estancia's Andrew Mits throws a pitch during the CIF Division 6 Finals against Anaheim. (File photo: OC Sports Zone, Fernando M. Donado).
Estancia High School sophomore pitcher Andrew Mits was named CIF Division 6 Player of the Year and Eagles coach Nate Goellrich was named Coach of the Year.
Mits and Goellrich helped lead Estancia to the CIF Championship. The Eagles also won the CIF Division V Southern California Regional Title beating Baldwin Park.
Estancia third baseman Trevor Scott and outfielder James De La O were also named to the first team.
Anaheim's Julian Albayati and Sonny Rios were also named to the first team.
All-CIF Team:
Andrew Ridge, 12, A. B. Miller
Robert Alvarez, 12, A.B. Miller
Jillian Albayati, 12, Anaheim
Sonny Rios, 11, Anaheim
Bradley Gilbert, 10, Arrowhead Christian Academy
Isaiah Sanchez, 10, Arrowhead Christian Academy
Julian Barajas, 11, Arroyo
Branin Seibert, 12 years old, Bellflower
Larry Salgado, 11 years old, Bellflower
Eli Biehl, 12, Beverly Hills
Trevor Scott, 12, Estancia
James De La O, 11, Estancia
Alexis Marquez, 11, Garey
Cody New, 11, Christian from Hesperia
Arlan Koester, 10, Hesperia Christian
Solomon Margolis, 11, Milken Community
Brian Garcia, 12, Edge of the World
D'Angelo Beckman, 12, San Gorgonio
Jackson Cloud, 12, Santa Ynez
Rocco Izzo, 11, Trinity Classical Academy
Connor Green, 12, Whittier Christian
Toby Kwon, 9, Whittier Christian