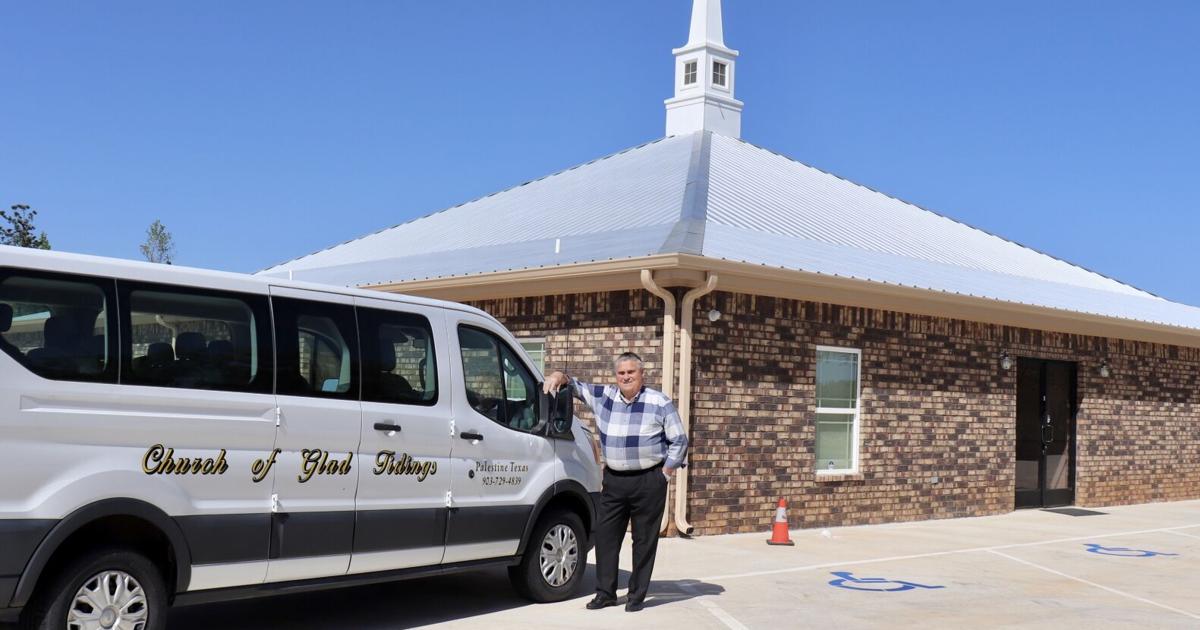 Good News: Church and Pastor Complete Two-Year Building Project | News
Glad Tidings Church shares good news: Its new building on Highway 155 opened last month and is nearly fully funded. Instead of buying the building from a factory or hiring a contractor, however, the church's own pastor, Charles McShan, led construction on site for two years.
McShan has run Glad Tidings, formerly located at Gardner Addition in Palestine, since 2001. He said he wanted to lead the construction of the new site to ensure its quality.
"I said Lord, 'If I build something, I want it to be good,'" McShan said. "I think God is worth it."
The 9,000 square foot brick building has a white metal roof topped with a 45 foot lighted steeple. The sanctuary of the church offers a breathtaking view of an exposed ceiling lined with gnarled pine trees. Four massive arches are anchored to the ground at four corners just inside the exterior walls of the church which visibly cross over the center of the sanctuary at 30 feet to support the ceiling.
While many churches no longer use quality building materials and methods due to high costs, McShan said he wanted to build a quality church that would glorify God.
"I always wanted to do my best for the Lord, and my dad instilled in me, 'If you're going to do something, do it right,' and that was always my philosophy," McShan said.
Glad Tidings opened 70 years ago and the Pentecostal Christian Church had just three members when McShan became its pastor and renamed it The Church of Glad Tidings. A few years ago attendance was 100, or 80% of the capacity of the old building, so church leaders decided to build anew.
McShan led the search for suitable land and secured a 14-acre stretch between Highways 155 and 315 with good visibility and access. Construction started in 2020.
Although 77 years old, McShan knew he could lead the construction of the new church in Palestine, as it is a replica of the one he built in Nacogdoches in 1980. He saved thousands dollars using the same architectural plans and used contracting skills learned from his brother.
McShan and other church members did most of the carpentry and electrical work. Church members installed lights and audio-visual equipment along the ceiling of the sanctuary. They assigned plumbing work to Gary Cooper and HVAC work to Michael Thomason's Ranger Air & Heat.
"You don't see this kind of work done because of the cost, number one and number two, of the skills you need to do it," McShan said. "When you do exposed wood ceilings, it has to be done right."
The church is selling its old properties, including a metal utility building and the 5,000 square foot old church building. In the future, the church plans to add a gymnasium and a communion hall with showers to accommodate hurricane victims.
McShan is also a member of the Elkhart School Board and an experienced drug and alcohol counselor, which he served on the United States Army and Air Force reserves. He retired after 29 years in the military and then served as postmaster of Palestine until 2006.
Glad Tidings Church is located at 2093 North State Highway 155.
For more information, call 903-729-4939.