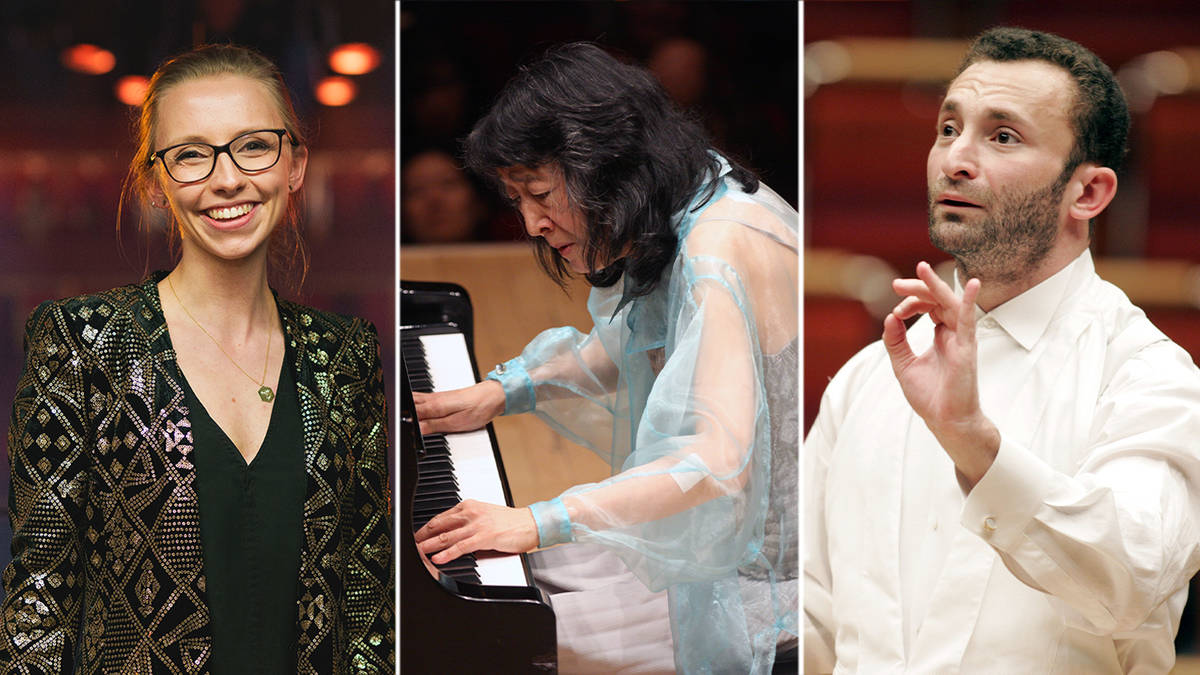 Gramophone Classical Music Awards 2022: How to watch, and all the nominated artists
September 26, 2022, 6:01 PM
Classic FM has once again partnered with the Gramophone Classical Music Awards, to sponsor the Young Artist of the Year award.
Every year, Gramophone organizes the Gramophone Awards to celebrate the best artists, pieces and recordings of the past year in classical music.
And this year, a scintillating awards ceremony will take place in person for the first time since 2019, at London's De Vere Grand Connaught Rooms on Tuesday 4 October. From this year's shortlisted recordings, one will be chosen as the winner in each of 12 categories, and only one album will be named as the prestigious recording of the year.
This year, conductor Kirill Petrenko leads the nominations with nominations in three separate categories.
Hosted by Gramophone editor James Jolly and featuring live music from the Orchestra of the Age of Enlightenment, the ceremony will also feature a marching band from Britain's National Youth Brass Band, as well as performances past and current Gramophone Award winners.
Additionally, you can watch highlights and performances from the awards show on Classic FM's website and social media from Friday, October 7 at 7 p.m. GMT.
Read more: The Gramophone Awards 2021 – all the winning classical artists
Gramophone editor James Jolly described the shortlist as "another very rich area".
"It will be great to bring the classic recording industry together alongside so many of this year's winning artists in London on October 4th," he continued. "Once again the blend of great works in extraordinary performances and more unusual repertoire artistically presented proves the imagination and creativity of the people who produce such wonderful music for us."
Gramophone Awards 2022: complete list
Other awards will be announced during the evening, including Artist of the Year, Young Artist of the Year (sponsored by Classic FM), Lifetime Achievement, Special Achievement, Label of the Year, Concept Album and Orchestra of the Year.
Chamber (sponsored by Wigmore Hall)

Brahms String Sextets
Tabea Zimmermann; Jean Guihen Queyras; Belcea Quartet (Alpha)
Stravinsky The soldier's story
Isabelle Faust; Alexander Melnikov et al (Harmonia Mundi)
Dutilleux/Merlin/Schoenberg Midnight Tower
Antoine Tamestit; Nicolas Altstaedt; Ebony Foursome (Erato)

Choral

J.S. Bach 'Mein Lebens Licht' – Cantatas BWV 45-198 & Motet BWV 118
Dorothée Mields; Alex Potter; Thomas Hobbs; Peter Kooj; Collegium Corrale Ghent; Philippe Herreweghe (ISP)
J.S. Bach Passion according to Saint Matthew
Julien Prégardien; Stephane Degout; Sabine Devieilhe; Hana Blazikova; Lucile Richardot; Tim Mead; Reinoud Van Mechelen; Emiliano González Toro; Christian Immler; Pygmalion; Raphael Pichon (Harmonia Mundi)
Buxtehude Membra Jesu nostril
Set matches; Sebastien Dauce (Harmonia Mundi)

Concerto (sponsored by medici.tv)

Bartok/ Berg/ Beethoven Violin concertos
Frank-Peter Zimmermann; Berliner Philharmoniker; Alan Gilbert; Daniel Harding; Kirill Petrenko (Berliner Philharmonic)
Kapustin Concertos
Frank Dupree; Rosanne Phillips; Württembergisches Kammerorchester Heilbronn (Capricious)
'Mozart Momentum 1786'
Mahler Chamber Orchestra; Leif Ove Andsnes (Classic Sony)

Contemporary (sponsored by PPL & PRS for Music)

Abrahamsen Schnee
Lapland Chamber Orchestra; John Storgårds (Dacapo)
Abrahamsen Snow Queen
Barbara Hannigan; Rachel Wilson; Katerina Dalayman; Pink Stone; Chorus and Orchestra of the Bayerische Staatsoper; Cornelius Meister (directed by Andreas Kriegenburg) (BSO Records)
Collar Violin Concerto
Patricia Kopatchinskaja; Luxembourg Philharmonic Orchestra; Gustave Gimeno (Pentatone)

old music

Josquin "Giosquino: Josquin Desprez in Italy"
Odhecaton; The Gesualdo Six; The Pifarescha; La Reverdie; Paolo DaCol (Arcana)
Josquin 'Fuck me'
Thelema Ensemble; Jean-Christophe Groffe (Apartment)
"Echoes of an Old Hall"
Gothic Voices (Linn)

Instrumental

Duruffle Complete works for organ
Thomas Trotter (King's College, Cambridge)
Paganini Whims
Alina Ibragimova (Hyperion)
Ysaye Solo Violin Sonatas
James Ehnes (Onyx)

Piano (sponsored by Yamaha)

CPE Bach Sonatas and Rondos
Marc-Andre Hamelin (Hyperion)
Beethoven Diabelli Variations
Mitsuko Uchida (This side)
'On DSCH' – Shostakovich 24 Preludes and Fugues
stevenson Passacaglia on DSCH
Igor Levit (Classic Sony)

Orchestral

Beethoven Symphonies Nos. 6 to 9
The Concert of Nations; The Capella Nacional of Catalonia; Jordi Savall (Alia Vox)
Mahler Symphony No. 7
Bayerisches Staatsorchester; Kirill Petrenko (BSO Records)
'Metamorphosis' Music by Korngold, Schreker and R Strauss
London Sinfonia; John Wilson (Chandos)

Opera (sponsored by Mascarade Opera)

Debussy Pelléas and Mélisande
Julien Behr; Vanina Santoni; Alexandre Duhamel; Marie-Ange Todorovitch; John Teitgen; Hadrien Joubert; Centuries; Francois-Xavier Roth (Harmonia Mundi)
Dvorak Rusalka
Asmik Grigorian; Eric Cutler; Maxim Kuzmin-Karavaev; Katarina Dalayman; Karita Mattila; Orchestra and Chorus of the Teatro Real; Ivory Bolton (directed by Christof Loy) (C major)
Korngold Die Stadt tote
Jonas Kaufmann; Marlis Petersen; Andrej Filonczyk; Jennifer Johnson; Mirjam Mesak; Corinna Scheurle; Manuel Gunther; dean power; Chorus and Orchestra of the Bayerische Staatsoper / Kirill Petrenko (directed by Simon Stone) (BSO Recordings)

Song (sponsored by Anderson Financial)

Schumann Complete songs
Christian Gerhaher; Gerold Huber et al (Sony Classic)
'Dissonance' Rachmaninoff songs
Asmik Grigorian; Lukas Geniusas (Alpha)
'Nostalgia' Songs by Bartók, Brahms and Mussorgsky
Magdalena Kozena; Yefim Bronfmann (Pentatone)

Voice & Ensemble

'Amazon'
Lea Desandre; Jupiter; Thomas Dunford (Erato)
'Baritenor'
Michael Spyres; Strasbourg Philharmonic Orchestra; Marko Letonja (Erato)
'Passion'
Veronique Gens; Together The Surprises; Louis-Noel Bestion de Camboulas (Alpha)

Spatial Audio (in association with Apple Music)

Fraying My mother the goose. Bolero etc.
London Sinfonia / John Wilson (Chandos)
R.Strauss Don Juan. Macbeth. Until Eulenspiegels lustige Streiche
The Cleveland Orchestra / Franz Welser-Möst (Cleveland Orchestra)
'Pictures' The organ at Ely Cathedral
Anna Lapwood (Sign)