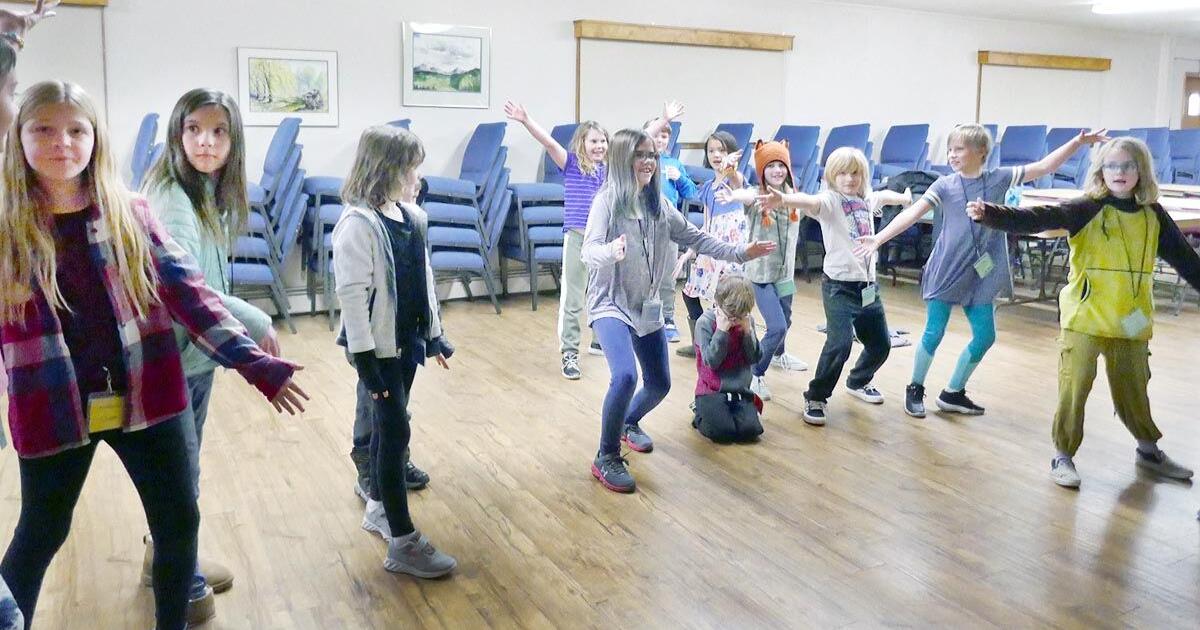 'Jungle Book KIDS' arrives on stage | Free content
The High Country Fine Arts Association presents a groovy jungle musical this weekend with Disney's "The Jungle Book KIDS."
Based on Rudyard Kipling's novel and the 1967 Disney animated film, this high-energy 30-minute musical focuses on wild child Mowgli, raised by wolves in the Indian jungle, and his friends Bagheera the panther and Baloo the bear who attempt to return to bring him back to the human village before he is caught by the sinister tiger Shere Khan.
The plot is put together by a cast of 28 students, from grades 1 to 5, and directors Judy Hamontre, Lindsey Mueller and Cindy Puckett.
Puckett states that "The Jungle Book KIDS" was an excellent choice for an HCFAA production due to a good fit for cast size, multiple lead roles, and the lack of predetermined male or female leads.
Having three directors also made rehearsals more fun and useful, adds Puckett. "Each game is doable because of the number of volunteers we use. Lindsey coordinates all the volunteers and also helps with practices, Judy creates and teaches the choreography and I direct the vocals.
Third-grade student Elsie Rasmussen returns from "Magic Tree House: Dinosaurs Before Dark KIDS" in 2020 to play Baloo in this production. "I'm really happy I got it and excited," Rasmussen said.
Starring in his first theatrical role, fifth grader Elijah Goddard plays the Kaa the Serpent.
"It's funny because I like snakes, but not poisonous snakes," he says. "It's a bit difficult because it can be difficult to walk with the reels at the same time. It's going to take a lot of practice with the costume, but I think it'll be fine when we're on stage.
Also returning from "Dinosaurs Before Dark," third graders Annabel Courtright and Rowan Krayna perform as part of the Jungle Ensemble as well as Kaa reels.
"I love it. I've watched 'Jungle Book' a lot of times," Krayna says. "I'm glad I got the part I got and not as big as some other kids."
Krayna is also happy to be able to perform so close to her best friends Courtright and MaeBelle Quilico.
"I'm excited to do it again because this year I have my own lines," Courtright said, adding that she feels really good about being in musicals. "I think musicals are fun."
"COVID has made gaming practices interesting along with everything else," Puckett says. "We had a lot of kids, but they did a really good job sticking with it and giving it their all."
Some children were able to join rehearsals from home through apps such as FaceTime.
"We really enjoy the 'Jungle Book,'" says Puckett. "The songs are great fun for kids and very catchy. When we picked the show, we immediately started thinking about what the stage and costumes might look like and seeing that come to fruition is rewarding.
The show runs at 6 p.m. at the Darren Patterson Christian Academy on Saturday, February 12 and Sunday, February 13. Doors open at 5:30 p.m. and tickets can be purchased there for $10 per adult and $5 per student. Children 3 and under enter free.
HCFAA is a non-profit theater organization run by a group of volunteers. The organization is grateful, she said, to the community for all of their help and appreciates the following companies and organizations that have supported its recent productions: Parent Volunteers, Alpine Lumber, Buena Vista Dental Care, BVHS Trident Theater Company, Collegiate Peaks Bank, Congregational United Church of Christ, Darren Patterson Christian Academy, DeFurio Custom Homes, Eddyline Restaurant at South Main, First Colorado Land Office-BV, High Country Bank, K's Dairy Delight, Kodi Rafting, Legacy Bank, New Bees, Once Upon a Trapeze Bookstore, Push and Pull, Sorelle Delicatessen and The Chaffee County Times.