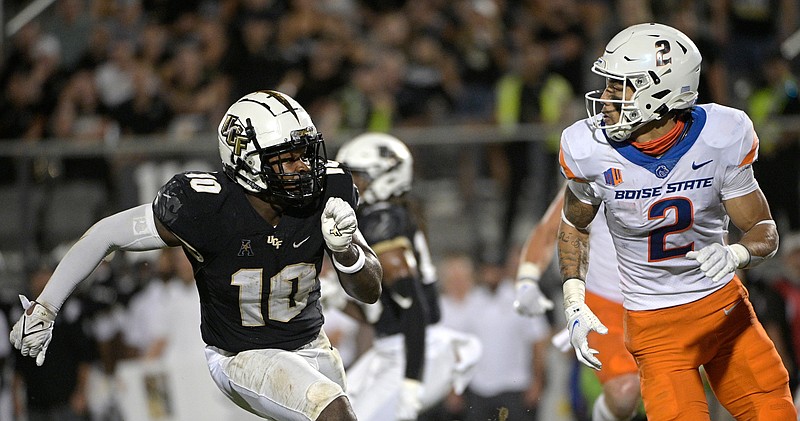 Kansas' Eriq Gilyard brings old school to new school after transfer from UCF
Eriq Gilyard has always been an old-school, smashing-mouthed, run-packed middle linebacker.
He can't wait to be that again.
Gilyard oscillated between schemes and responsibilities at UCF last season and was turned and then ousted from the Knights' 4-2-5 defense under first-year head coach Gus Malzahn and his pair. defensive coordinators.
In October, the two-year-old starter with 197 career tackles had had enough and decided to trade. In January, he signed up at Kansas and was one of eight players to join the team before winter training began.
Gilyard, who is 5-foot-11 and weighs 235 pounds, was able to keep a redshirt year by playing just four games last season and will have two more seasons of eligibility left.
His addition, along with Craig Young from Ohio State and Lorenzo McCaskill from Louisiana, should strengthen a unit that, like the rest of the defense, had to rely on inexperience last season.
"I feel like the opportunity I have here is to be able to play, to show what I can do, to coach, to plan and honestly, I like a challenge," said Gilyard. "It's no surprise that Kansas isn't as good as it should have been last year and I want to be part of the change that comes with this program – which I know will come."
A four-star prospect for the class of 2018 at Trinity Christian Academy in Jacksonville, Fla., he has received scholarship offers from nearly two dozen schools, including Clemson, LSU and Michigan, but has committed to the UCF in October 2017 during the Knights' undefeated season.
After deciding to trade, he narrowed his picks to Kansas, Arizona, East Carolina and Bowling Green, then picked the Jayhawks in December.
"A lot of guys would be like, 'OK, I'm going to go to Alabama,' or things like that," Gilyard said. "They would go to a school where they're already good. Why not go to a school that's going up and be part of it? I feel like that's the challenge I want to take on."
Although he did not discuss playing time with the Kansas coaching staff when he was drafted, he has, as planned, alternated with the first and second teams during spring training as he adapts to the specifics of the Kansas 4-3 scheme.
"Eriq Gilyard is probably a real inside support, mic support for us," defensive coordinator Brian Borland said during spring training. "He's kind of built that way. If you watch him long enough, he kind of has a sense of diagnosing things and moving and sharp angles to get the ball, which I think really plays on his strength in the box. He's probably not an out-of-the-box type of linebacker, so that's probably where he's going to go. … There's a lot to learn at this position. There's a lot to being able to communicate, so there's a lot about this guy. He's embraced this role. He doesn't say a word. He's just all about it."
Young, who was primarily a safety at Ohio State, believes his transition to the role of weakside linebacker and nickelback at Kansas in the spring was often helped by Gilyard's knowledge and experience.
"I just know there's someone inside of me who's going to rush in and equip their guy and attack the ball really well," Young said. "It's great knowing he's right next to me and I'm very comfortable that there are games I don't have to because I know Eriq is there for them. make play."
Gilyard earned his bachelor's degree in communications and enrolled in a master's program in sports management in Kansas. He would like to be a high school athletic director one day because, if he can, "I can impact the lives of a lot of kids the way some people in my life have impacted me and they were important to me," he said.
For now, he hopes to make a significant impact in Kansas.
"I'm confident in my skills and what I can bring to the table," he said. "That's part of the reason why I felt comfortable coming here."