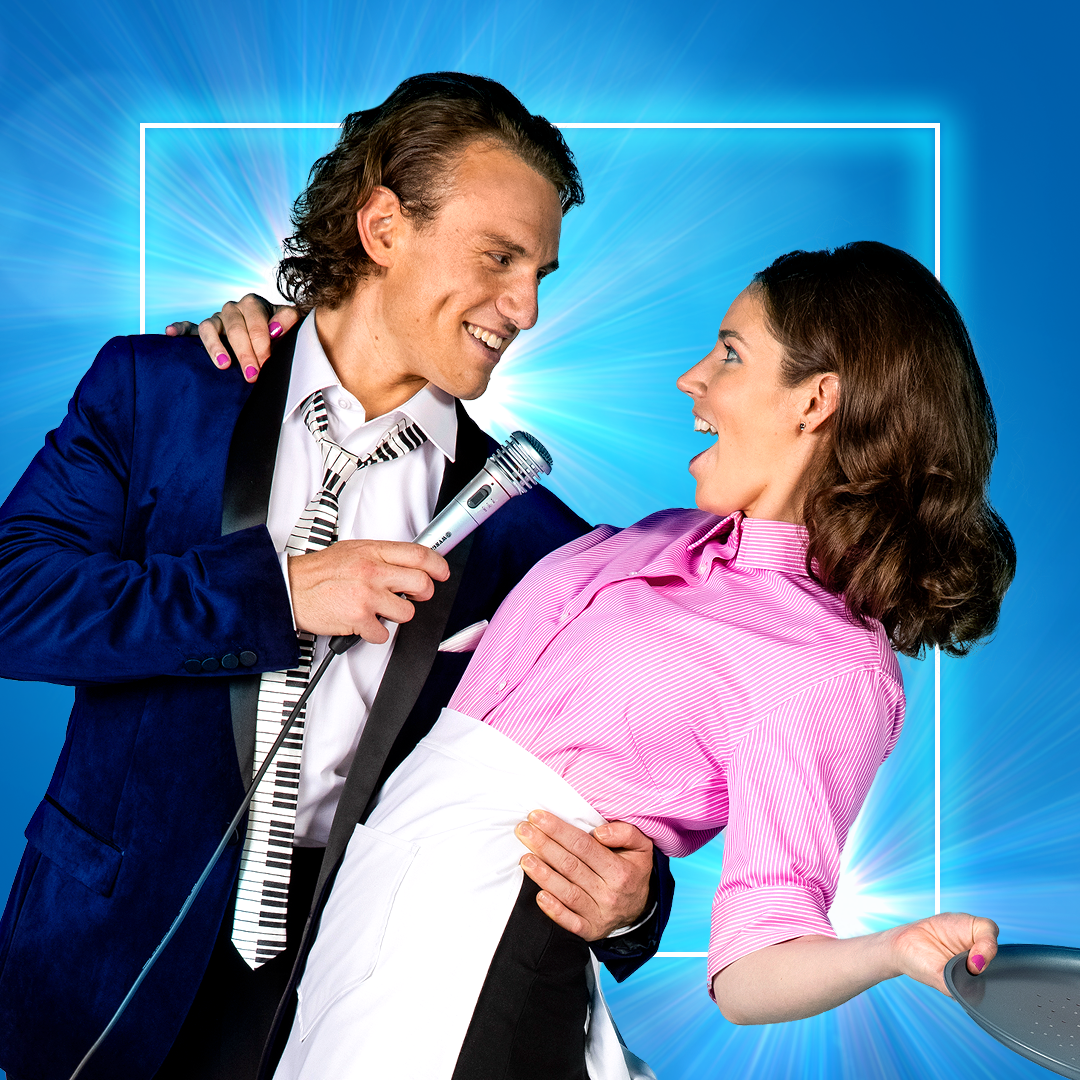 Theater Critic: The Wedding Singer, Arts Center Melbourne
A medley of 80s pop songs fill the theater before the show begins, setting up and reminding us of that era of big hair, flaming wardrobes and one-off wonders.
Those who have seen the 1998 film starring Adam Sandler and Drew Barrymore know what to expect in this musical adaptation of The Wedding Singer, and the producers and actors do indeed glam and kitsch it to the nth degree. The musical premiered on Broadway in 2006, and it's a testament to its popularity that it's been touring locally and internationally ever since. It made a recent stint in Sydney and after a short season last year, returns to Melbourne for an encore with new cast members, costumes and sets.
The script is pretty basic and romantic comedy formula: affable musician Robbie (Christian Charisiou) is the titular wedding singer – in a nice twist, he and his band go by the name Simply Wed. He does his job well and even seems to enjoy the merrymaking, but it wasn't meant to be that way. He was destined for bigger things: a rock 'n' roll lifestyle with original songs written by him as lead singer and star. Instead, his career path has diverged from heavy metal to bubblegum pop and he finds himself singing cheesy songs to grateful but rowdy and largely drunk audiences.
Read: Theater review: The Museum of Modern Love, Seymour Center
Luckily, Robbie is engaged, which lends added weight to the love songs he sings, but sadly, his fiancée Linda (Kirby Burgess) dumps him because she thinks he's sold; he's not the rocking idol of her dreams. Dwell on the tragicomedy of a wedding singer who must perform before the golden glow of newly wed couples as his own heart has been shattered and trampled like shattered glass at the end of a murderous night.
At the same time, Robbie meets Julia (Teagan Wouters), a sweeter than fairy waitress betrothed to a rude Wall Street trader, the perfect doll Ken Glen (Stephen Mahy) who treats her like a bauble and still has eyes wanderers despite their engagement. So, before they can say "Love is a battlefield", couples get into all sorts of setbacks and misunderstandings. It's a musical memory, and much of the fun comes from the neon pink and electric blue decor and lighting and costumes of tulle, sequins, shoulder pads and parachute pants; a world where sparkle and sparkle reign supreme.
Charisiou and Wouters are as lovable and flirty as you'd expect from an idealistic pair of lovers and the secondary characters and supporting entourage of dancers are equally good (vampy vixen Burgess as Robbie's ex, Julia Holly, Nadia Komazec, channeling Madonna, and a feisty Susan-ann Walker as Robbie's rapping grandmother, in particular) but what's interesting about this production is that even though it sticks closely to the movie, there are various story changes, tweaks, and additions that are worth seeing even if you are familiar or enamored with the original incarnation.
It does take some getting used to, however, with the new original songs (some catchier than others) rather than the 80s jukebox tunes that Robbie covers in the film, but the choreography here is just as exhausting. and peppy (all those high kicks!) and smooth as you would expect, with references to Michael Jackson, lightning danceJane Fonda's fitness videos and maybe even the Solid Gold dancers.
The Wedding Singer is for diehard romantics, '80s tragedians, and those (especially Gen Xers) who simply want a happy retro trip to a nostalgic land of raging mullets, rah rah skirts, and synth-heavy ghettoblaster melodies .
The Wedding Singer
Melbourne Arts Centre, State Theater
Book by Chad Beguelin and Tim Herlihy
Music: Matthew Sklar
Director: Alister Smith
Producer: David Venn
Musical Director: Daniel Puckey
Choreographer: Michael Ralph
Costume design: Kim Bishop
With: Christian Charisiou, Teagan Wouters, Stephen Mahy, Kirby Burgess, Nadia Komazec Haydan Hawkins Susan-ann Walker Rania Potako-Osborne, Jared Bryan, Glen Oliver, Sheridan Anderson, Ed Deganos and Hollie James
The Wedding Singer will play in Melbourne until February 20 before heading to His Majesty's Theater in Perth for its season starting February 25